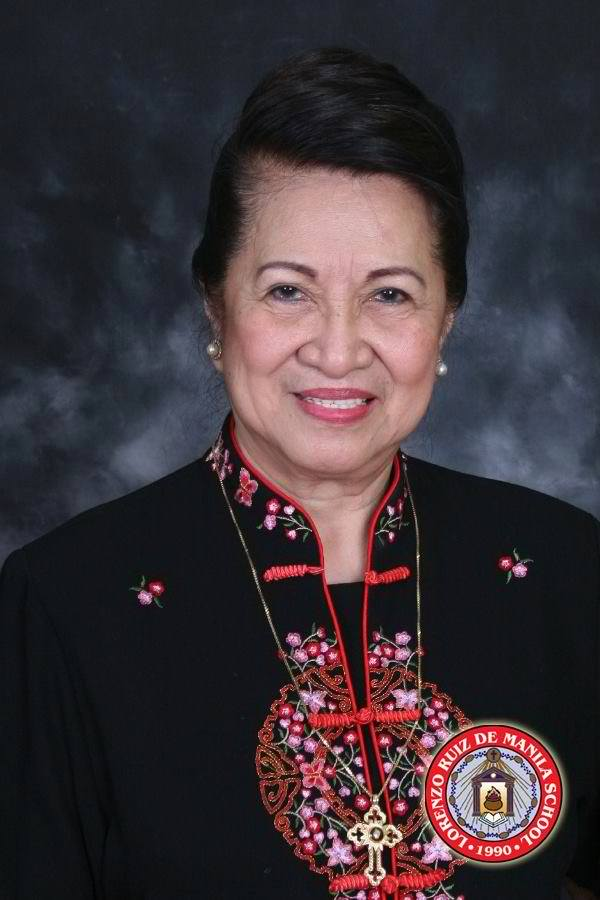 Our Founder
Lorenzo Ruiz de Manila School is a dream made into reality through the person of Mrs. Lydia Cuevas-Vicente, an educator who believes in the love of God and the goodness of man.
Coming from a humble family of the late Teodoro Cuevas and Natividad Mariano, Mrs. Vicente first saw light on September 5, 1938 in San Mateo, Rizal. She is the second and only daughter in a brood of five children of the Cuevas family. On June 15, 1967, she was married to Mr. Clementito Vicente, also a native of San Mateo, Rizal. They were blessed with four sons and a daughter.
Mrs. Lydia C. Vicente spent her elementary years in San MateoElementary School and finished secondary education as honorable mention at DoñaAuroraHigh School. She obtained her Elementary Teacher's Certificate with honors and her BSEEd from Philippine Normal College. Then she pursued her Masteral Degree in Education major in Guidance and Counseling at the Ateneo de Manila University.
At the age of 18, she started teaching preschool at Stella Maris College, Quezon City and eventually became its coordinator for preschool and Teacher Trainor for BSEEd student teachers. From 1966 to 1978, she committed herself to teaching at the Ateneo de Manila Grade School, Quezon City. But while still a faculty member, in 1976, she co-authored a series of Filipino and Mathematics textbooks for lementary level for two leading local publishers until she, herself wrote several volumes of modules and learning materials for preschool and grade school. This led her to leave the teaching profession to engage herself in being an author, publisher and entrepreneur.
In 1986, the EDSA Revolution left in Mrs. Vicente a strong desire to help change the worsening condition of the country. After attending a five-day retreat, she understood that with her gift of being an educator, the best way she could help was through an educational institution where a new breed of young people would be developed into Christian leaders and catalysts of change in society. Thus, the founding of Lorenzo Ruiz de Manila School (LRMS) in 1990 in Cainta, Rizal and subsequently, San Lorenzo Ruiz de Manila School (SLRMS) of Marikina City in 2003.
As President and Director, Mrs. Lydia Cuevas-Vicente beams with joy and thanksgiving in overseeing the growth of Lorenzo Ruiz de Manila School. Together with her family, she hopes and prays that with the grace of God, LRMS will not only be the fulfillment of her dreams for her beloved youth and country but a gift that she could offer back to her Creator for His greater glory.